First impressions of tourism in Fiji
November 12, 2013
Emma Hughes (PhD candidate)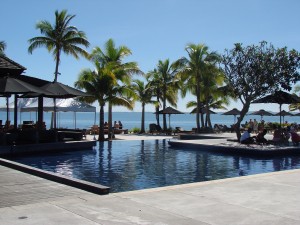 Visiting Suva for the 2013 Oceania Development Network (ODN) conference, I was able to take advantage of the opportunity to travel across Viti Levu and see some of the most popular tourist resorts first-hand. Coral Sun's air-conditioned coach is a great way to travel: the four hours it takes to travel from Nadi to Suva takes you around the Coral Coast through to Pacific Harbour before arriving at the capital.  The majority of the foreign-owned hotels are located along this stretch of coastline, with international chains well-represented among them, including Shangri-La, Accor, Warwick, Intercontinental and Outrigger.  Passing fields of sugar cane, dalo (taro) and coconut palms and through small rural villages for most of the journey, the coach would periodically turn into long palm-flanked driveways which led to luxury 4 and 5 star resorts with villas, bures and swimming pools – always to be greeted by a wave and a 'Bula!' from smiling Fijians wearing frangipani flowers.  I was told that happiness is government policy  (through adoption of the Gross National Happiness initiative) – it is certainly an important tourism marketing strategy.
Chatting to a Fijian passenger travelling from one of the high-end resorts to Suva, he explained that the landowning community had negotiated important benefits from the US-owned company. These included preferential employment for mataqali (clan) members, use of food waste for the piggery and support for the local school. It extended to negotiations with government around shifting the coral coast highway inland to allow for hotel expansion.  The mataqali ensured that access to the foreshore was retained.  In other conversations, however, I was told that preferential employment can be a double-edged sword: where employment at the resort is guaranteed, it can mean that children don't complete school, and then later find that promotion opportunities are limited.
On Bainimarama, Fiji's military ruler since the December 2006 coup, I encountered divergent opinions.  Interestingly, while some were at pains to point out the illegal nature of the military government, others noted social and economic gains for Fiji that he has engineered. The story of Fiji Water is a case in point.  Everywhere we went, Fiji Water in its distinctive square bottles with the hibiscus and palm frond labels was served – apparently also an accessory of the rich and famous in New York. Its North American founder had negotiated a 99-year lease back in the 90's – with tax-free status.  When Bainimarama sought to impose a higher tax on the company in 2010, the new American owners threatened to up-sticks and leave the country. The plant was closed temporarily, but later reopened, with the owners agreeing to the new tax conditions.
Walking around Suva, the economic challenges facing Fiji were visible at micro-level – almost half of the population are said to be living in poverty and here in the capital multiple income-earning strategies are in action with small traders of all kinds selling products and providing services. At the University of the South Pacific, ODN Conference discussions about inequality and inclusive and sustainable development centred on the various social and economic challenges facing the region – but also on the demand for local responses using local knowledge.  The fact that the UN has labeled the region 'off track' for development goals designed from afar was clearly not appreciated.  The complex position of the Pacific in international relations was made evident at a televised debate hosted by the Pacific Institute of Public Policy, which all conference attendees were invited to. In response to the proposition, As global citizens, it is only right that Pacific island nations accept their share of global refugees, there was little support from the audience, particularly in light of the region's own socio-economic challenges and current ethnic tensions between indigenous Fijians and Indo-Fijians.
University of the South Pacific were generous hosts and we were well looked after for the duration of our stay.  Conference food was a variety of Fijian and Indo-Fijian dishes – kokoda, grilled eggplant, fish and goat curries, always accompanied by taro, salads and fresh fruit. At the conference dinner at we were treated to a meal beautifully prepared and served by hospitality and tourism students at the Fiji National University owned and operated restaurant, Tiri.  The experience of hotel food was a little different: my first taste of food in Fiji was New Zealand green lipped mussels at a Nadi hotel – even though there are beautiful freshwater mussels available locally.
I began to learn not to get caught out by both the weather – sudden downpours appear out of nowhere and then disappear as fast as they begin, and the maps – which appear to be different on paper than on foot.  On my way to the Fiji Hotel & Tourism Association, by my reckoning a short walk from my apartment, I discovered two connecting streets were actually separated by a steep embankment.  As I debated whether or not I had time to walk all the way around before my meeting (I didn't), the clouds opened above.  My small umbrella was little protection as I edged my way down the muddy pathway, turning up at the association a little wet and muddy.  The lovely Chanelle welcomed me in, sat me down with a hot cup of coffee and gave me an hour of her time to chat to me about their work.
Travel back was on the recently rebranded national airline: Air Pacific is now Fiji Airways once again, with a distinctive Fijian identity. Masi (tapa) images adorn the aircraft and beautiful sulu jaba and bula shirts  are uniforms for cabin staff, also with masi designs. The regional airline, Pacific Sun, is also about to be renamed – suggestions are being solicited from the general public – with the condition that the new name include the word Fiji.