Exploring the corporate perspective
August 13, 2014
(by Glenn Banks)
On a recent visit to Australia I was able to sound out corporate level management from the two mining companies that we are looking at using for case studies for the Papua New Guinea component of the project. These are Newcrest – a significant global mining operation based in Melbourne – and St Barbara, a 'junior' Australian miner based in Perth. These discussions were largely exploratory – relationship building as much as anything.
Newcrest are the owners and operators of the Lihir gold mine in New Ireland Province, a massive, long-term operation that produces up to 1million ounces of gold a year. On the community development side, they are noteworthy in that much of the annual K20million+ investment into the community is directed through the Lihir Sustainable Development Programme, a community designed and managed entity that delivers a broad range of economic and social services. A really interesting, but not unproblematic model: for one thing the agreements under which the LSDP operates are currently being reviewed and renegotiated, so it is a little unclear exactly what form the local control of these funds will be like.
St Barbara are a very different company: small by industry standards and with just one offshore operation other than the Simberi mine (also New Ireland province) – the somewhat controversial Gold Ridge operation in the Solomon Islands which is currently not producing due to damage done by flood waters earlier this year. The Simberi operation is in many respects a mini-Lihir – similar geology, a smaller mine, a smaller island and a smaller community – so it should make for an interesting comparison in terms of what they are doing in the community.
Both the sets of corporate discussions were interesting, with quite different immediate concerns: Lihir concluding the negotiations for the new agreements and what this might mean for the delivery of community development initiatives, and Simberi coming to terms with issues around community dependence and how to plan for the social consequences of eventual mine closure (scheduled currently for about 8 years away). And both parties were keen to engage further with the project, which of course is exciting for us.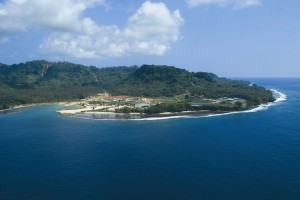 The Simberi mine (Source: Stbarbara.com.au)