Compatibility Issues with macOS Big Sur – Solution for Macs with Apple M1 chips
February 24, 2021
EndNote X9 and macOS Big Sur are not compatible. This issue mainly affects new machines or macs that have been updated to the new macOS Big Sur before installing EndNote. Those who have EndNote and have since updated the macOS Big Sur have not encountered issues.

EndNote has a workaround for Macs with Apple M1 chips (Macs from 2020 onwards). You will have encountered an error message informing you that the add-in is not compatible with this version of Word.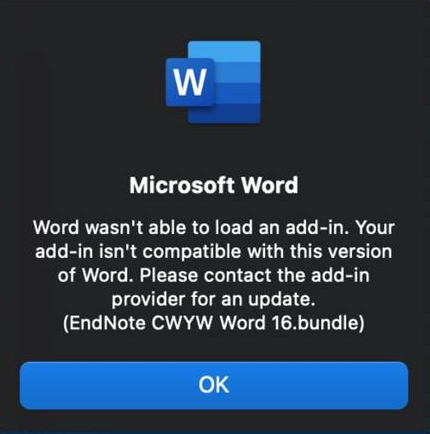 Please follow the instructions on the link below for the workaround.

https://support.clarivate.com/Endnote/s/article/EndNote-Apple-M1-chip-compatibility?language=en_US
For those Macs, without the M1 chip, a workaround is still in progress.