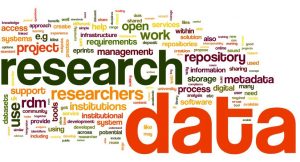 The University is working to improve support and services for Massey University researchers in regard to the management of research data.
A working group with cross-organisational membership (Research and Enterprise, ITS, the Library and academic representatives) was established in 2015 to investigate the problems being experienced, and to work out a plan for improving the situation.
The investigations
The Office of the Assistant Vice-Chancellor Research, Academic and Enterprise issued a survey to Research Staff, and a series of interviews with people who agreed to be contacted were carried out. The investigations aimed to uncover:
Current practices in relation to the creation, use, storage and preservation of research and teaching data including collaboration and sharing.
The aspects of research data management requiring additional support and services.
What was found?
Some clear themes emerged from the investigations:
Data storage
Current storage provisions are insufficient
processes to get additional storage is time consuming and challenging
the cost charged for additional storage is difficult to fund"Portable storage is a survival technique"
Collaboration
Difficulties collaborating with external parties
large data volume needs to be shared
Dropbox is the most popular cloud-based tool which is not an approved platform and is inconsistently funded
issues with  distributing large files with students


"I have a major collaboration project coming up later this year. I have a…process in place but I don't know if it will work in a year's time"
High performance computing
Issues with accessing compute resources in a timely manner
Insufficient compute capacity
data on Massey owned HPC cluster is not backed up
Massey owned HPC does not have ongoing maintenance budget


"I have had to buy my own laptop with the processing capacity I need"
Support and advice
More support and advice required for managing data, both structured and unstructured; including when to make use of personal databases for storing and managing data
advice required in several different formats, such as web page, one-on-one, fact sheet
unclear on intellectual property and rights management


"Everyone has reinvented the wheel for themselves"
Data protection and rights
Risks associated with data stored on cloud-based collaboration tools, such as data sovereignty, data loss if staff member leaves Massey University, accessibility and security
risks associated with data stored on external hard drives, such as data is not backed up, data is often taken when staff leaves Massey University, and security
difficulties with intellectual property and managing rights to research data, particularly when collaborating with external parties


"There is little advice provided by Massey on ownership of data and how to protect it. I'm nervous about sharing in collaborative environments…"
Next steps
A programme of work to address the gaps raised by researchers is being developed. Some initiatives are 'quick wins' and these are currently being worked through. Others involve larger pieces of work that will be incorporated into a 'roadmap'. The table below lists the initiatives (please note that additional issues raised that are not listed in this table will also be addressed).
| | | | |
| --- | --- | --- | --- |
| Type | Item | How | Who |
| Quick win | Database management advice | Paper written presenting options with consultancy available | ITS |
| Quick win | Data protection and ownership advice | Content written and added to the library research data management pages | Library |
| Quick win | Email storage increase | Project started to move email to Office 365 which increases mailboxes to 50GB | ITS |
| Quick win | Storage options decision tree | Once the options and recommendation is complete create a decision tree and make it available on research data management web pages plus communicate with all staff | ITS and Library |
| Quick win | GitHub advice | Provide guidance for creating and managing a GitHub repository (Colleges would be responsible for funding their GitHub repositories) | ITS |
| Quick win | Better communication and visibility for services | For example how many academics are aware of ZendTo as an option | ITS |
| Roadmap | Cloud storage for collaboration | Options analysis (including OneDrive, Dropbox or CloudStor) with a recommendation | ITS |
| Roadmap | Storage roadmap | Review current options and investment implementations | ITS |
| Roadmap | Data classification and backup options | Review the approach for backing up data (both within ITS and college based infrastructure) to see if we can leverage a data classification to reduce the costs or extend to other data without increasing the costs | ITS |
| Roadmap | Process for making purchases through ITS | Review whether recent changes are sufficient for providing an easy and time effective process for academic staff to make hardware purchases | ITS |
| Roadmap | eResearch offering | This will support short term, on demand, scalable HPC as required and provide consultancy support for ITS research support | ITS |
| Roadmap | High performance computing decision tree | Once the options, recommendation and approach is agreed then a decision tree is made available on research data management web pages on the options and how to access these options and communicated to relevant staff, for example CoCA, INMS | ITS, TEAB and Library |
Further information
Contact RDM Working Group Convenor Sarah Ellison S.Ellison@massey.ac.nz, or Natalie Dewson n.m.dewson@massey.ac.nz if you need further information.