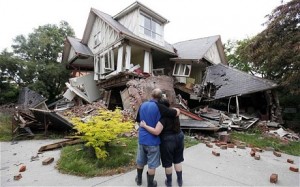 Ki ora! Welcome to 219.312 Risk and Crisis Communication research and teaching resources site. My aim is to post here latest research trends, on-going risk and crisis case studies, and my experiences teaching the course at Massey University.
What is Risk Communication?
Risks are inherent to all actions in our life. Bad weather, slippery roads, outdated anti-virus software, and food allergies are some of the risks we face in everyday life. We do all we can to reduce such risks, and when we cannot completely eliminate the uncertainty, we plan early to reduce the impacts resulting from risks. Seat-belts, for example, help us reduce health impact from accidents. Informing the chef of any food allergies would ensure your enjoy the dinner at the table, and not under a surgeon's knife.
Often, we are not pay enough attention to risk information. In fact we may downplay several information about potential risks because we think it is negative news, or we don't want to be distracted from our plans. Not planning ahead and wishful thinking that risks will just disappear with time may result in greater negative impact.
What is Crisis Communication?
Risks, when not handled properly, result in crisis.
Hot coffee, when not carried carefully back to the car, spills and stains your dress.
Natural disasters, industrial accidents, leaks and contamination, spread of infectious diseases, acts of terrorism and violence, are also part of life unfortunately. After 2008, we can add financial crisis to the list of unfortunate events. Such events result in enormous human and economic costs.
Communication aimed to prevent crisis and disasters from happening in the first place is the study of issue and risk communication. Communication during and after the disaster is the study of crisis communication.
Know more about risk and crisis communication here soon.