2018 Sheep Milk NZ Conference Embracing the Potential
||Conference Transport (note below)||
---
With the theme, 'Embracing the Potential',  the 2018 Sheep Milk NZ Conference on March 12-13  will  feature presentations  and engagement sessions with all the  key industry players, the latest sheep dairy research, extraordinary sheep milk foods and esteemed international and local speakers. Submissions for programme sessions close Friday, February 23. For Further details  email sheepmilknz@massey.ac.nz  or ring Craig on 021 672 199.
Conference Details (to date)
AGMARDT International Key Note Speaker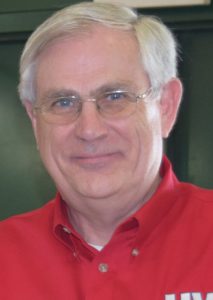 Dave Thomas is the leading US sheep dairy scientist.  He helped found and for more than 20 years was  principal researcher at the University of Wisconsin's specialist dairy sheep research station, The Spooner Institute.  During that time he ran experimental work on a huge range of topics. He will address the conference on his  work comparing East Friesian and Lacaune breeds for milk production and lactation traits including weaning systems, milk letdown, between milking interval. He will also dairy sheep health and milk quality challenges and general sheep dairy management.
Related Links: Listen to Dave talk about the Spooner Institute. Link to some of Dave's sheep dairying publications
---
Conference Dinner Address  
'Reflections on a Dairy Diversification Journey'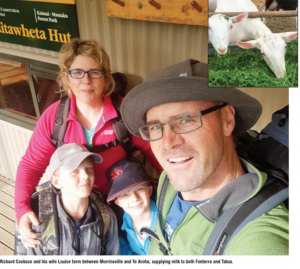 Richard Cookson  and Louise Cullen (Cookson Trust Farms, Te Aroha, Waikato) are formerly agriculture  research scientists (nitrate cycling , forestry and  climate change) who returned to their family's farming operation in the early 2000s. They are currently joint managing directors of a business  that  supplies  Fonterra, Tatua and the Dairy Goat Cooperative  (and Louise is also on the Tatua board).   Their conference dinner address will reflect on the diversification of their multi-generational family business  as it has shifted focus toward creating greater value rather than increasing productivity.
---
Conference Honorary Guest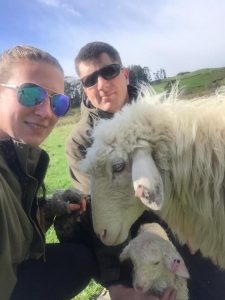 At the tender age of 24,
Julie Brownlee, the 2018 SheepMilkNZ Conference Honorary Guest 
(picture left with fiancé Nathan) is one half of the partnership that powers Thorvald (the Nelson-based sheep milk producer). Prior to Thorvald she was the shed manager at Neudorf Valley Sheep Cheeses before it closed in 2014. However, when she and  Nelson businessman Dave Barratt started Thorvald on the same site, she had to started  from scratch, leasing land, building a  flock and re-equipping the milking shed. It was clear that for Thorvald's  spreadsheets to work,  the factory needed milk all year round so Julie has started something no-one else in New Zealand is doing: milking 12 months of the year. That involves lambing and all its attendant hard work three times a year. Milking and the lambing beat are seven days a week, fifty-two weeks a year. It is major commitment, perhaps one that only a young person with a young person's energy could take on. 
Julie Brownlee will open this year's conference
  (text from the Country Calendar episode). See Julie and Dave Barratt's Country
Calendar episode
.
---
Programme 2018 SheepMilkNZ Conference
 March 12 Day 1 Welcome 
 9.30-10.00 Powhiri and Welcome with Lucy Griffith (CEDA), Professor Jan Thomas (Massey University Vice Chancellor), Jeff Grant (AgResearch Board Chair), Eric Crespo (De Laval, GM Sheep and Goat Systems), Julie Brownlee (Hanover Stud and Thorvald)
Morning tea 10.00-10.30
10.30-12.00 Session 1: Consumers, Markets and Products  (Chair, Craig Prichard)
 10.35-10.45 Introdution to Spring Sheep, Nick Hammond (Spring Sheep)
10.45-11.00 Markets and consumers , Andrea Wilkins (Spring Sheep)
11.00-11.20 Nutrition and Older Adults, Carol Wham (Massey University
11.20-11.35 Sheep Milk Cheese  Design, Pilar Farras (Massey)
11.35-11.50 Blue  River product update, Gareth Lyness (Blue River)
 12.00-1.00 Lunch
 1.00 – 3.30 Session 2. AgResearch Session   (Chair Linda Samuelsson)
 1.00-1.05 Inroduction to AgResearch Session, Linda Samuelsson (AgResearch)
1.05 -1.20 Sensory profiling of New Zealand cow, goat and sheep milk by a Chinese trained panel (Li Day, AgResearch)
1.20-1.35 Volatile 4-Alkyl-Branched Chain Fatty Acids in New Zealand Sheep Milk (Fei Teng, AgResearch and Harbin Institute of Technology, China)
1.35-1.50 Compositional analysis of NZ sheep milk lipids using advanced analytical techniques (Mikhail Vyssotski, Callaghan Innovation)
1.50-2.05 Evaluation of the effect of sheep and cow milks on bone structure in a rat model (Keegan Burrow, University of Otago)
2.05-2.15 Panel 1 Off-Farm Research
2.15-2.30 Progress towards quantifying some environmental impacts of New Zealand dairy sheep systems (Diana Selbie, AgResearch)
2.30-2.45 Walking distance, behaviour and milk production of ewes in different housing systems (David Stevens, AgResearch)
2.45- 3.00 Using ultrasound to identify high performing dairy ewes (Adrian Molenaar, AgResearch)
 3.00-3.15 Panel 2 On-Farm Research
3.15-3.30  Producer survey (Anne-Marie Manzano, AgResearch)
 3.30-4.00  Afternoon tea
4.00-5.00 Session 3: MilktestNZ Regulation, Processing, Manufacturing, and Support (Chair Kavitha Babu, Milktestnz)
 4.00-4.15 Life Cycle Analysis  and Product declarations (Ray Mohan, Massey)
4.15-4.30 The challenges of value-add for the sheep industry (Shane Kells, Waikato Innovation Park)
4.30-4.45 Funding and Support  for NZ Sheep Dairying (Mela Greenslade, MPI)
4.45-5.00 Maui Milk Update (Peter Gatley, Maui Milk) 
5.00-5.45 Freezing Demonstration, Jolin Morel, Massey University 
(to be held on the Massey campus in the freezing unit lab at the rear of the Riddett Institute opposite Orchard Road Carpark – van transport leaving for demonstration at 5.10pm)
__________________________________________
Conference Dinner: Pre dinner drinks from 7 pm and dinner at 7.30
Location: Sir Geoffrey Peron Building, Massey Campus
Guest Speakers: Richard Cookson and Louise Cullen
__________________________________________
Day 2
9.00-10.00 Session 4: Agmardt International Guest Speaker Dave Thomas (U Wisconsin)
10.00-10.30 Morning Tea
10.30-1.00 Session 5: DeLaval Farm Operations (Chair Rowan Galloway, DeLaval)
10.30-11.00 Milking Systems Configuration & Considerations  (Manuel Alejandro, DeLaval)
11.00-11.15 Nutrition (Thomas Macdonald, Spring Sheep)
11 15-11.30 The importance of feed quality in the lactation of dairy ewes (David Stevens, AgResearch)
11.30-11.45 Genetics (Mina Algorta,  Spring Sheep)
11.45-12.00 Genomics for Small Ruminants; An Update ( Suzanne Rowe, AgResearch)
12.00-12.15 Mastitis; An Update (Sam Peterson, Massey)
12.15-12.30 Ovine Pneumonia – Recent vaccination strategies (Natalie Parlane, AgResearch)
12.30-12.45 Weaning and feeding (Patrick Morel and Paul Kenyon, Massey)
12.45-1pm Lamb Rearing (Sue McCoard, AgResearch)
1.00-2.00 Lunch
2.00-3.30 Workshop Sessions (delegates will be asked which workshop sessions you are keen to attend)
Workshop 1: Lamb rearing options for New Zealand dairy sheep farming systems 
Sue McCoard, AgResearch and contributors
Workshop 2: New Entrants Session: Getting in and making it work
Contributors include Nick Hammond, Spring Sheep, Guy Trafford, Lincoln/Charring Cross, Julie Brownlee,
 3.30-4.00 Closing: Final remarks and farewell
_______________________________
Principal Sponsor:

---
 Major  Sponsors:


---
Cornerstone Sponsors