New Dashboard view
November 11, 2019
The most noticeable change from the 2019 Stream upgrade will be the first screen you see, the Dashboard!
At last it's possible to customise your list of Stream courses. Last year it became possible to favourite Stream sites. But after the upgrade you can:
Sort your list by access date or course name.
Star a course or even Hide a course with one click. Filters can be applied for these.
Change the number of courses you can see at one time
Choose from three different display styles.
A very handy tour is displayed when you first login and will show you all the important parts of the new Dashboard. Do take time to look at this.
Remember from November 14 the new list will look different to your previous one, so do take some time to sort and filter it the way you want.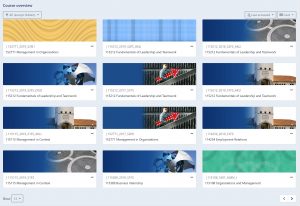 The new look Course Overview block as part of a refreshed dashboard