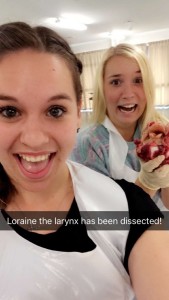 "So what are you doing this year?"

"I'm actually studying a bachelor of Speech and Language Therapy at Massey on the North shore."

*blank look crosses their face* "oh okay… so… what does that lead into?"
If I was paid a dollar for every time I have this conversation, I'd already be a millionaire. I must admit though, I do get a kick out of saying "well you actually become a speech and language therapist," because the person's confusion usually reaches the ceiling.
So my friend, let me take you on an adventure through a day (or really a week) in the life of a speech and language therapy (SLT) student…
First let me get one thing straight, a speech and language therapist does not just play with children all day and fix their stuttering. It is so much more broad and complex than that. A speech and language therapist can work in a hospital, a clinic, with the ministry of education, in a community and so much more. Their practice can vary from assessing people's swallowing in a hospital to working with children with disabilities or working with people in their home environment. And the absolute best part is that you get to dedicate four years to gain skills and knowledge in all areas so you are fully equipped to enter the work force.
This semester I have five papers – four are just one semester and the other one is a year-long paper. SLT is slightly different to other degrees. Because it is so specialised, all of the papers are compulsory and we have a mix of lectures and block courses. We have one three hour lecture a week for each of our three papers, and the other two papers are block courses. Block courses are two sets of three full days where you learn the whole paper's content. The rest of the time you are expected to do assignments in your own time.
So while my timetable seems very casual, only having one lecture on Monday, Tuesday and Friday, my days off are usually spent in the library doing uni work.
So welcome to my uni life:
On Mondays I have anatomy class at 9am. Personally, I find anatomy very challenging but equally interesting. I sit there amazed about how intricately our bodies are designed and how every muscle and bone is specifically placed to carry out a certain bodily function. So far a highlight for me has been dissecting a cow's larynx. As a farm girl I would like to say that I was the bravest and most into the dissection, however embarrassingly I felt rather nauseous – not one of my finest moments.
After class on Mondays I am library bound – either doing readings for lectures or doing assignments.
Tuesday morning is language studies – my favourite subject. Prepare for your mind to be blown while you reconsider how you even managed to learn the English language in the first place. Language studies looks into the science of language and how to phonetically transcribe words.
And on Friday mornings we have communication disorders. As we are just in first year, we are given a broad overview of most disorders and then in the following years they are explored in more depth.
The thing that I love about being an SLT student is that straight away we are learning things that are relevant and can be used when we go out into the work force. The more I learn the more passionate I become and my dreams start to grow bigger.
If you're thinking about studying speech and language therapy the advice that I have for you is 100% go for it. You don't have to know much about the profession in order to study it because that is what the next four years and beyond are for! I must confess that before I started studying I knew very little about it – all I knew was that I want to spend my life helping people and a career as an SLT would enable me to do that.
If this sounds like a bit of you then stay tuned because soon I'll be posting about how to apply for SLT.
Be bold, be strong and dare to go against the flow of the crowd.