Exams are coming up, which I know is one of the most nerve wracking periods of the semester, I have had many last nights in the library studying the masses of information we seem to need for each exam. I have been fortunate to quickly figure out how I best study, to make the most of my time and absorb the most information.
Everyone studies differently, you may know already how you learn best, but I thought I'd share a few tips of my own that have got me through the first half of my BN (Bachelor of Nursing).
Posters
These are a personal favourite of mine, and I'm sure my flatmates, who are not nursing students love them too, when I scatter them around the flat, nothing like learning about infection control while in the shower!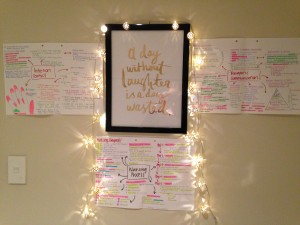 Making an A3 poster on a topic and sticking them to my wall is a way I can summarise a topic, and revise it when I'm going about my everyday life, they can go anywhere – your bedroom wall, the bathroom, kitchen anywhere you spend a good amount of time.
I like to make my posters bright, and memorable, so when I'm sitting in an exam I can think about what the poster looked like and hopefully remember the information off it.
Cheat Sheets
I found cheat she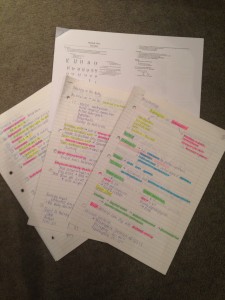 ets particularly useful in both the science and nursing papers. I like to go back through all the slides for each individual topic and create cheat sheets with the most important information on them. You can also add in important pictures and diagrams, which are quite useful to memorise and pop into the exam to help illustrate your answer, particularly science diagrams and flow charts.
It can also be quite useful to pull information out of the cheat sheets and cut it down to the most important parts on flash cards!
 I admit that I may have a 'slight' obsession with cute stationary, but flash cards are both cute and practical. I mostly used these for the bioscience and applied science papers to learn key terms and to break ideas down into their main parts.
Flash cards mean you have to be concise as they are not massive, but this also means you're more likely to remember the information.
You can also find blank index cards in a range of cute colours, so if your anything likes me this will help to make it a little more appealing!
Create Study Groups
This has to be my number on tip when it comes to studying for nursing exams. Nursing is not a single player sport; you have to learn to work as a team, so group study just means you start this early.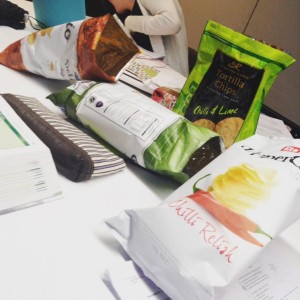 We found a great way to make this work effectively was to download past exams. We would go over them in our own time, particularly the multi choice questions, because you wont usually get given the answers, and then come together and debate our answers. Justifying your answers to your friends makes you think hard about why you think it's right, and also gives you other perspectives you may not have thought of when you worked on your own.
Working in groups also makes the long hours a bit more enjoyable, and can help to calm nerves before the exam. So book a study room, grab some friends (and some food to keep you going) and get studying!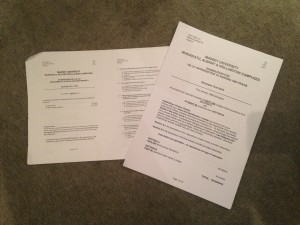 Find your past exam papers here: http://www.massey.ac.nz/massey/research/library/help-and-instruction/catalogue-help/search-encore/exampapers.cfm
Have a little celebration to end the semester!
As I've already said Nursing is a team sport, you will probably know by now that the amount of time you spend with your peers makes for very close friendships. After exams are all over, and the stress of the semester is hopefully gone for a couple of weeks, we love to get together for a BYO dinner, and have some fun together outside of the library. This is a great way to let off steam; I think everyone would highly recommend it!
Putting together all my study tips has just made me realise how close exams are! I think it's about time I created a study schedule and get onto it! Good luck everyone you'll ace them!!