By Kaitlyn Tyler
Degree: Bachelor of Communications
Campus: Auckland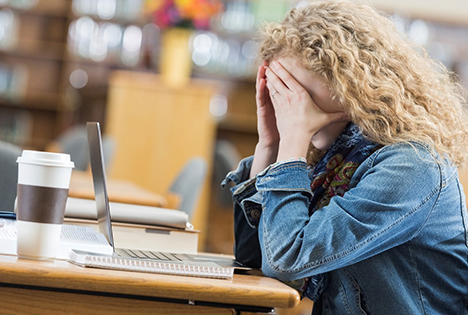 It's the beginning of a brand-new semester. You've purchased all the right textbooks, read and recited the course guides, and organised your binders. You're ready for a full semester of uni, BUT, it hits you like a tonne of bricks. Although you're up to date with all your readings, you feel emotionally defeated. You're sleep-deprived, a pro at overthinking, and you can't relax. In fact, every time someone mentions university you want to crawl back into bed and stay in the glow of your laptop screen.
As much as this goes unspoken, study anxieties are incredibly common. Believe it or not, they can be managed. This blog post compiles some simple but achievable ways into shifting the weight of all those textbooks from your back to the desk.
Establish a set study space
It's important to establish a space where you study – whether you study strictly at university, or you buy a desk for your room. This so there is a clear space in your room dedicated to that one part of your life. The minute you drag it over to your bed, is when the stresses of university begin to gobble up your nights' sleep. This simple change results in stronger and more regular sleeping patterns, which is precious during such stressful times. Starting my second year, I soon remembered how important it was to fall asleep and wake up at a reasonable time. By setting an alarm, I made sure I was up to tackle the day, and that I had left enough time to finish all tasks. This also helps study anxiety by not feeling as though you wasted a day or have left things overdue.
Keep your study schedule reasonable and organised
You should schedule your study accordingly – you don't want to be up at ridiculous hours in the night finishing a reading when you should be working. Organize set periods of time to study each subject that work well around your own schedule. It's good to have weekly planner that you can take with you day-by-day, so you can establish your agenda for each day. In my own personal experience dealing with study-related anxieties, I invested in a wall calendar, so I can note down class times, assignment due dates, and other important dates. They're cheap and easy to get your hands on, all you need is wall space and blue tack. Another thing I felt made my days during university a lot easier was going over what I needed to do for the day the night before. It keeps you prepared for the day ahead.
Don't forget your 'me time'
It's cliché, yes, but me-time will prevent study anxieties. Put time aside to go out for a drink, do your makeup, kick a ball around, or whatever it is that helps you wind down. It's important to have time where you feel like you're doing nothing that isn't the time when you're sleeping. Me-time will keep you feel frazzled, and prevent you ever burning out. You must remember that while university is a commitment of yours, it is not your entire life, and it's up to you to keep it that way.
Get help
Massey University have incredible doctors, nurses and counsellors that can aid you in your journey to beat study anxiety. I found that group counselling sessions really helped, not only in voicing your own worries, but finding students that are in the exact same position as you. It's a great way to make friends. You'll become more comfortable with expressing your own emotions too, especially if that's something you struggle with. If you want to get in contact with the on-campus counsellors, do not be afraid. It's one small step to getting yourself back on track. For anyone interested in talking to a professional or becoming part of a group counselling session, I have taken the liberty of providing emails and contact numbers for each campus health centre.
Auckland
studenthealth@massey.ac.nz
(09) 213 6700
Wellington
healthandcounsellingwgtn@massey.ac.nz
(04) 979 3030
Manawatu
s.counselling@massey.ac.nz
(06) 350 5533
Finally, don't be too hard on yourself. University is a huge commitment, but you must remember that you can totally do it. With the support of friends, family, and professionals, you can push through and succeed. Keep those positive affirmations floating around in your head during stressful times. Believe in yourself. You'll' do great!