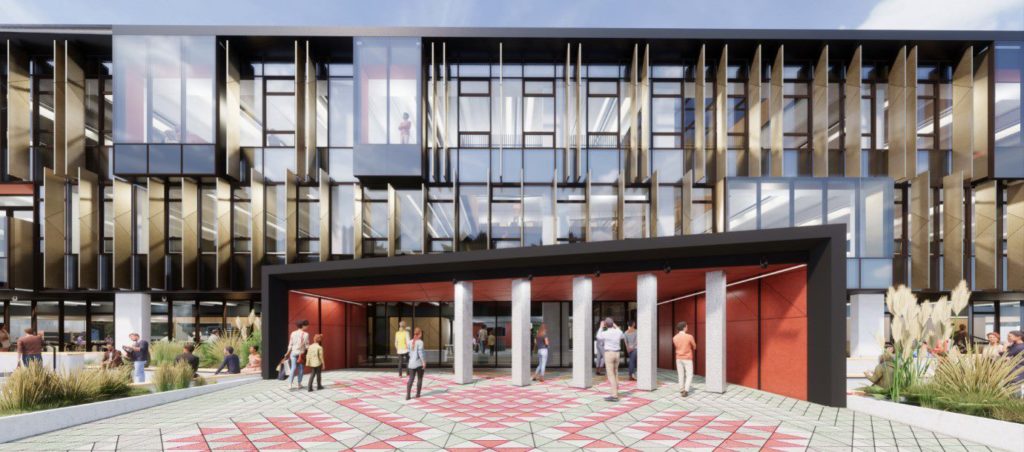 The Manawatū Library Transformation has recently achieved a major design milestone in the development of this landmark project.
​​​​​​​The Project Control Group met late last month to review and approve the developed design and cost estimates for the work to strengthen and refurbish the Manawatū Library Building. With cost estimates still within budget, the project will now move into the final design stage, with design completion expected early next year.
Provost Professor Giselle Byrnes, the project sponsor and chair of the group says the design process has involved a variety of stakeholders.
"We have consulted with students, staff, and Rangitāne as mana whenua. A number of co-design workshops have led to the development of an authentic cultural narrative and integration of mātauranga Māori into the design, while also delivering on the objectives of increasing student study space, respecting the 'brutalist' aesthetic features of the original library building, and undertaking a thorough, much-needed interior refurbishment with appropriate seismic strengthening."
Key design elements include the creation of an atrium in the main entrance, the use of a 'curtain wall' façade to increase visibility from the concourse, the creation of a covered colonnade walkway along the front of the building, increased seismic separation between the conjoined buildings (creating a second atrium), and a re-configuration of collections to create more study space. Windows will be double-glazed with a mix of opening windows, radiator heating and air conditioning.
Staff are preparing for the start of building work so that library services can continue seamlessly. This includes interfiling the New Zealand collection with the general book and journal collections, identifying very low use books and journals to move to the Library's store (to be retrieved when requested), and preparing print collections to be moved to new locations.
Construction on the refurbishment of the Manawatū Library is expected to begin mid-2022.