Philosophy Events
In 2021, the Annual Conference of the Association of Philosophers in Aotearoa New Zealand (NZAP) is organised by Massey University Philosophy. The event takes place from 5-8 December at our Manawatū campus (Palmerston North).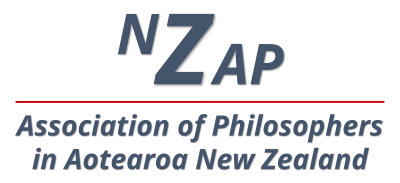 For information about the event, visit the conference website HERE. More details will be provided there frequently, all the way until the start of the event — so please check back every once in a while.
Philosophy Seminars
At present, we do not run a philosophy seminar series on campus. However, we are the current organiser and host of the Online Philosophy Seminar Series pilot for the New Zealand Association of Philosophers (NZAP).

All details, including meeting times as well as information about upcoming and past talks, can be found by clicking HERE.
If you're interested in philosophy, have a device to run Zoom (free for personal use, click HERE), and are able to access the Internet, you're very welcome to join us.
Philosophy Club(s)
The Platonics is our Philosophy club for, and run by, students at the Albany Campus. It's open to all who study at Massey University, taking Philosophy papers is not a requirement. Just bring your natural enthusiasm and connect with other philosophically curious people.

When: Tuesdays, 10:00am (during semester weeks)
Where: Tutor's Lounge, 3rd floor of the Atrium Building
Tea, coffee, and biscuits provided.
Note: The Platonics currently don't meet on campus. If you'd like to get together virtually (eg, in Zoom), please email us at philosophy@massey.ac.nz.