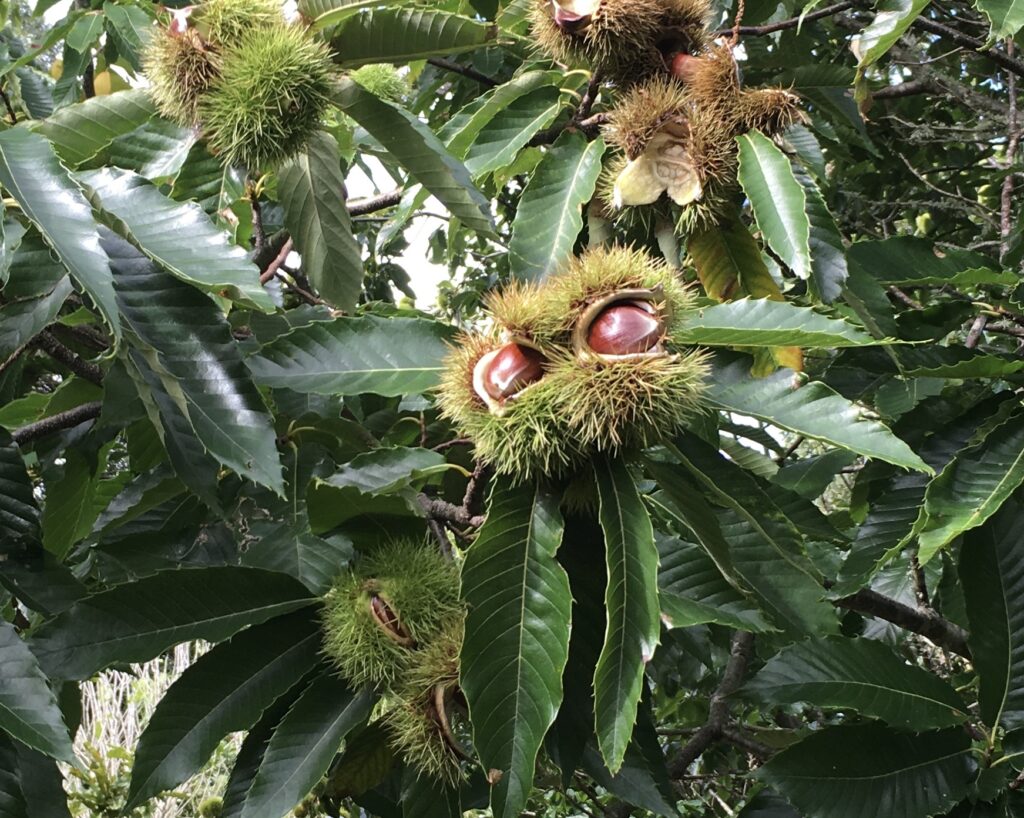 Chestnut biscotti (twice-baked nutty biscuits)

Sweet chestnuts are falling from the tree in my garden (late March in Manawatū, NZ). We collect them all up so the rats, rabbits and rosellas don't get them.
I simmer whole nuts in a large pot of water for about 15mins the same day I collect them. Once cooked they can be easily opened with a sharp knife. Cut them open while still quite hot and scoup out the soft cream flesh. This nutty pulp can be frozen and used later in the winter for making stuffing for a roast chicken, thickening soup, or used in baking.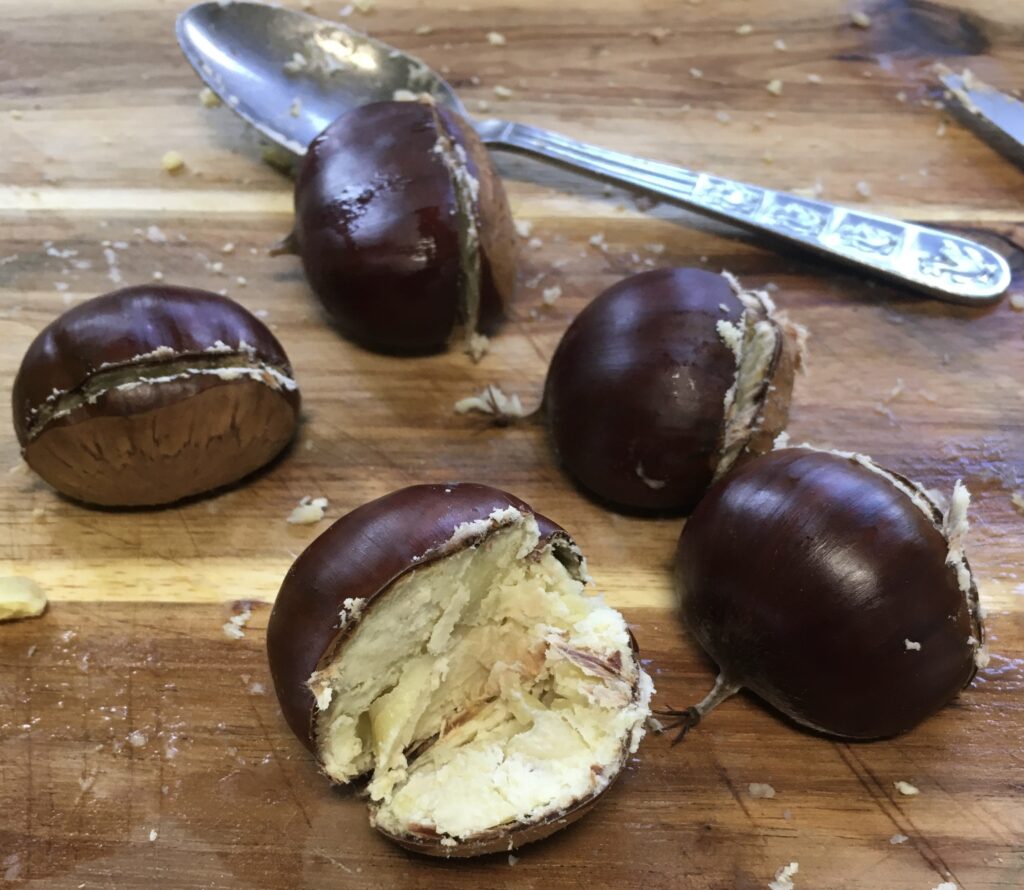 One option is to use chestnut pulp instead of ground almonds when baking. For example, twice-baked biscuits, dry and crunchy are usually made with almonds but work well with chestnuts. Biscotti is not super sweet but perfect for dipping into a morning coffee or extra fuel before the cycle home. I take a screw-top jar filled with biscotti to work and they prevent me seeking chocolate when I'm busy. So, here's a recipe for sweet chestnut biscotti to try when the nuts are falling:

Ginger and sweet chestnut biscotti
25 fresh chestnuts (makes about 250g pulp)
3 small eggs or 2 large (supermarket-type) eggs
1tsp vanilla essence
1/4tsp salt
100g sugar (I used half white, half brown)
120g crystalised ginger
70g cranberries (or other dried fruit)
1.5 – 2 cups plain white flour
1tsp baking powder
1tsp ground ginger

Beat the eggs with essence and salt. Add chestnuts, crystalised ginger, dried fruit, and sugar. Stir. Add flour, baking powder and ground ginger then mix well to form a dough that is dry enough to turn out and shape with your hands. Kneed the mixture on a floured bench briefly then shape into a log about 30cm long. Move log to oven tray and bake for 40–50 mins at 160oC. Remove from oven and while warm cut with a bread knife into slices about 1cm thick. Arrange these on an oven tray and return to the oven. Bake about 15 mins then turn every slice over and bake another 15 mins. The exact time will depend on your oven and how crunchy you like your biscotti. Turn oven off and leave to cool in the oven. Store in an air-tight container.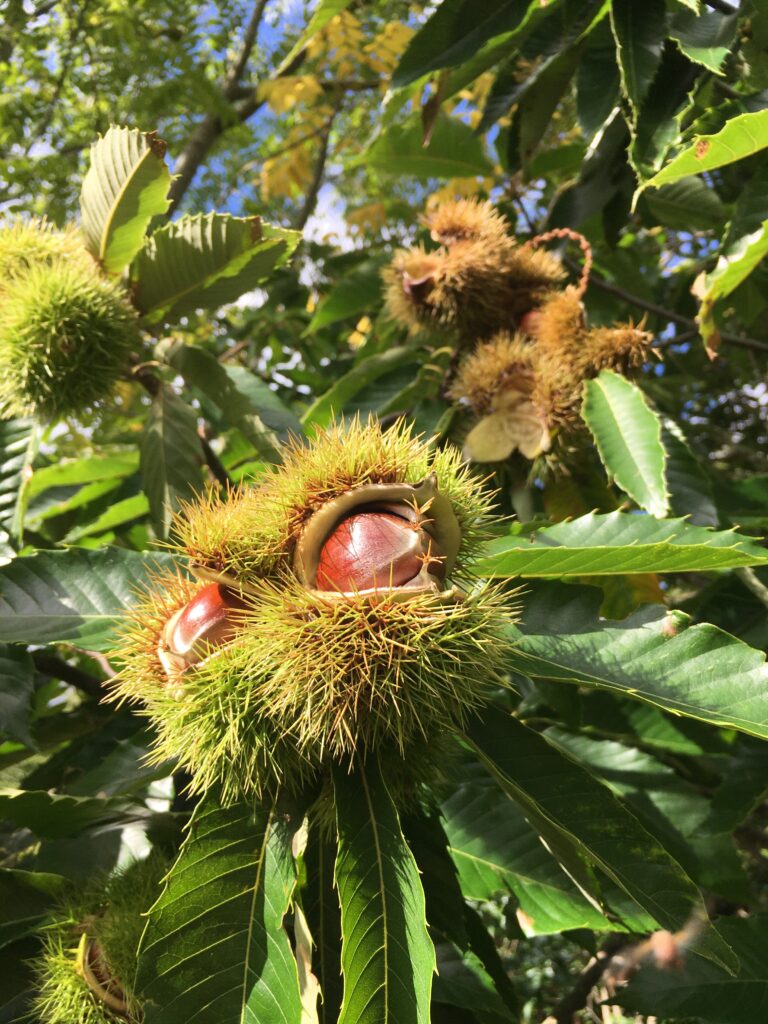 If you don't like ginger, you could try swapping spices and increasing dried fruit. For example here's a version for cinnamon, apricot and chestnut biscotti (mix and bake as above)
50 fresh chestnuts (makes about 500g pulp)
6 small eggs or 4 large (supermarket-type) eggs
1tsp Vanilla essence
zest from one lemon
200g sugar
2.5 cups plain white flour
15 dried apricots (or other dried fruit)
1tsp baking powder
1tsp ground cardamon
1tsp ground cinnamon
1/2tsp salt
Parma Tarts – Medieval chestnut and chicken pies
600g chicken mince
Oil for frying (couple of tablespoons canola)
500g chestnut pulp (about 50 chestnuts)
½ cup currants
1 tsp freshly ground black pepper
1 tsp ground ginger
1tsp cinnamon
½ tsp mixed spice
1tsp salt
2 small eggs (or one large egg)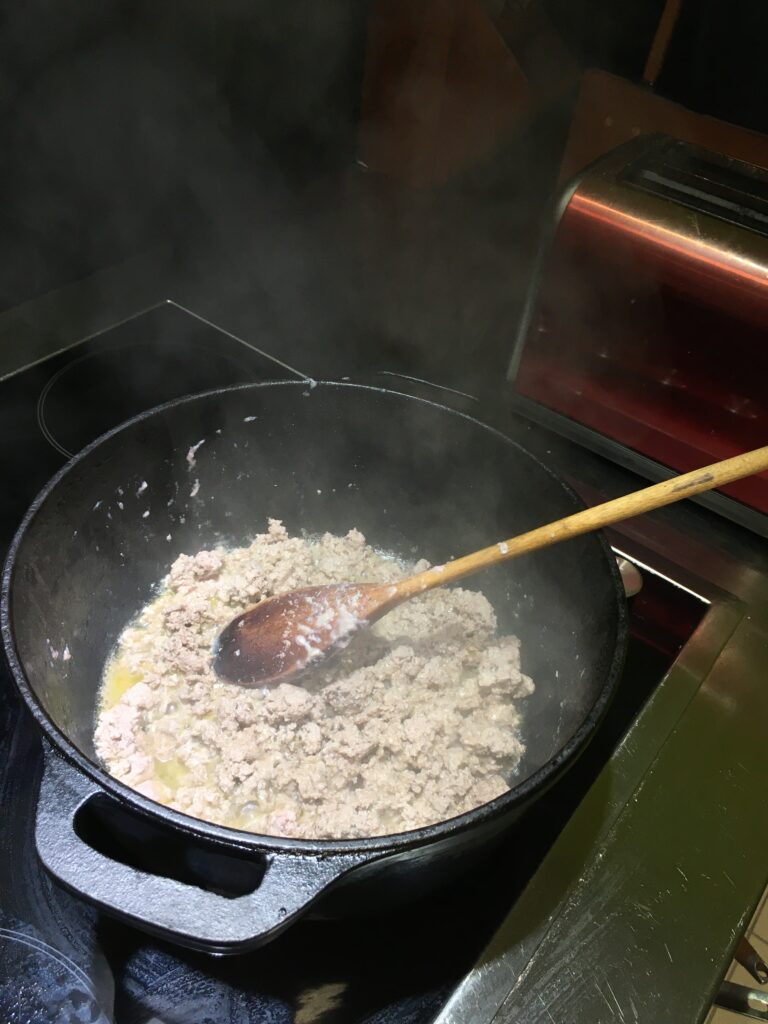 Fry chicken mince in lots of oil until colour change and looking cooked. Add currants and spices. Mix well then add chestnuts. Keep frying and stiring for a few more minutes. Turn heat off and add one or two eggs and mix well to bind.Line pie tins with flakey pastry and fill with meat. Top with pastry lid and bake at 180oC until pastery golden. Yum!