Bridget Scanlan had just finished working out at the Massey campus gym when she got the phone call that would change her life. It was her doctor with the news that she had type 1 diabetes.
"It's a distinctive uni memory," Scanlan says now, and she still clearly remembers the shock.
"I was previously really healthy but I just had a few weird symptoms that I thought I would get checked out. I certainly didn't expect it to be anything major."
At 20, Scanlan suddenly found herself lumped with a bagful of medical equipment and a requirement to self-administer blood tests and injections. At first she wasn't comfortable with doing either and didn't want people to know about her condition.
"Social events are a central part of being at uni and I had this really big, brown tote that went with me everywhere, regardless of outfit," she says. "I'd go to the bathroom to do my tests and injections because I didn't want my stuff spilling out in front of everyone. It wasn't really that safe or discreet.
"From the beginning, I wanted a bag that was more suited to my needs. I definitely looked for it at the time and nothing existed."
Scanlan went on to graduate with a conjoint business and arts degree, which gave her a good mix of skills for her future as an entrepreneur. She also studied at NZ Fashion Tech and gained the technical sewing skills she needed to make that perfect bag a reality.
The push she needed to turn her idea into a business came when she was accepted into a programme run by Project Fashion Wellington, an initiative to help local designers launch fashion labels.
"I hadn't run a business before but my business degree at Massey was focused on entrepreneurship, so I had a concept of what it would be like, and an idea of all the things that needed to be considered when starting a business," she says. "But the rest of it you just work out as you go by making lots of guesses and mistakes."
Scanlan says her time at Massey also led to crucial connections with mentors, including those at business incubator Creative HQ where she now shares space with other entrepreneurs.
She officially launched KYT (Keeping You Together) bags in May 2018 and is working on her fourth production run after a busy Christmas sales period. She's also in the design phase for a new men's bag and options for people living with allergies or cancer.
"We have definitely filled a gap in the market for a sophisticated handbag," she says. "Internationally, there are some companies that make accessories for people with diabetes, but they are still very medical-centric. KYT bags are special and sophisticated."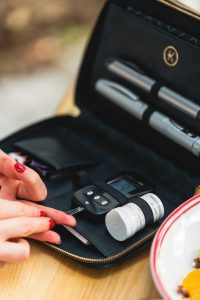 Scanlan says her biggest challenge was the mental shift required to put down her tools and move away from her sewing machine.
"It's so easy to get tunnel vision when you're working on a prototype, and you kind of presume that if you make it, somebody will buy it. But, actually, the selling of the bags and making people aware and excited is another huge part of the job."
She says connecting with the diabetes community was what really made the bags "come to life". Before that, she was creating largely for herself and it was an important shift to make sure she was solving other people's problems too.
"The minute I made it a priority to embed myself in the diabetes community, it really became clear what my priorities were and what my design should be like," she says.
This approach brought both personal and business rewards. "What I love about working in a niche business are the emotional reactions people have to KYT – the stories that they send us about how something as simple as a bag has changed their day-to-day lives," she says. "It's exciting because our customers are really engaged and really affected by our work."