"At the time I was a small business owner, operating my business on an accounting system that was awful. So, to commit to a new venture that would solve problems that I was having myself just made sense. Rod had been talking for years about starting a company around online accounting services for small businesses. It was, in his view, the biggest modernisation opportunity on the web at that time. He was just waiting for the right time to do it.
"Our challenge was in building the solution, but not creating a market need. The need was already there. A lot of startups are solutions looking for problems, but in our case we had a problem in need of a solution. We figured it would be a slam dunk if we did deliver the technology."
That said, the man who could see what Xero could become had struggled to decide what he wanted to do for much of his life. As a child, Walker dreamt of being an astronomer, as a teenager he reckoned he would be a pretty decent criminologist, and on leaving high school he was going to join his brothers studying law. But at the last minute he withdrew his application to Victoria University of Wellington and followed his mates to Massey's Manawatu – campus.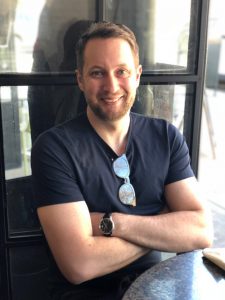 After his mum was able to grind down the accommodation staff, he secured his choice of place in the halls of residence and began studying. But rather than study computing he pursued a Bachelor of Business Studies, not knowing what to specialise in.
When he took an information management paper as part of his first-year, that choice become clear. "I realised I liked it, and I was also quite good at it, so I switched to a Bachelor of Science. I began learning about IT management, databases, information architecture. These were topics I had never thought about before and my brain latched on to them.
"They have been critical, foundational skills for me throughout my career. In a nutshell, what I do is build data architecture and tools for data analysis. Essentially, turning data into useable information."
However interested he may have been, the now-driven businessman describes himself then as a "lazy student" who would only fire on all cylinders when he had a project to work on that he was passionate about. This work ethic never ceased to antagonise his teachers but would end up landing him his first job.
"I remember a tutor pulled me aside in class, telling me off about how I didn't pay enough attention," he says. Coincidentally, right behind his tutor was a poster for graduate positions at Glazier Systems.
"That was one of Rod Drury's and Andrew Kissling's first ventures and I got the joke – they were a Windows development company and they called themselves Glazier Systems. I sent an email to the company based on that poster. I'd never heard of them, and I probably would've never heard of them if I hadn't been paying attention [to the poster]. And that's how I got my first job."
After a few years with Glazier, Walker's career began to gain speed and Drury singled him out to join his new spinout company VIATX after seeing Walker develop a new way of building software.
"The new company was selling software as a service, before this was even a term. I went from being a graduate developer to being an intermediate developer suddenly, then a chief technology officer of this little start-up. We ran it for a couple of years, and it died," he says cheerfully. "I think any true serial entrepreneur has failures.
I wouldn't class myself as one but that's how you learn. The learnings from that I took into my next role."
After running a virtual chief-technology officer consulting company for a number of years thereafter, Walker decided to pop along to his old boss's birthday party, where he would be asked the question that would change his professional life.