Growing up in Waikato, Jim Young never saw himself vaccinating dairy herds in China or developing disease diagnostic kits for governments, but he quickly realised that his veterinary career would not be in New Zealand.
"Both my father and my grandfather were vets, and Mum was a nurse and a vet nurse, so I grew up in and around veterinary clinics," Dr Young says. "I think from about the age of three I was going on vet calls with Dad." This meant that studying for a Bachelor of Veterinary Science at Massey was almost inevitable.
Then in 2004, he secured a place on a student trip to South Africa. "This was a highlight of my student experience, where along with 90 vet students from around the world we toured multiple game parks and got up close and personal with wild cheetahs, elephants, lions and rhinos that had been darted for sampling, pregnancy testing and health checks. I convinced the wildlife vet manager to let me do a rectal exam on a heavily sedated, four-tonne wild elephant."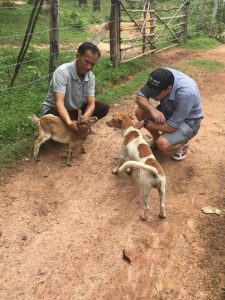 On completing his degree he returned to hometown Te Awamutu to work with dairy cows. There he may have stayed, save for a phone call that set his journey on an entirely different track.
"I got a call in 2007 asking if I wanted to go to China and help set up large-scale dairy farms for Fonterra. I think I was just in the right place at the right time, and they needed someone quickly. My clinic manager was supportive so within a week I had a visa and jumped on a plane with about 50kg of veterinary equipment and drugs – basically prepared for anything!
"It was one hell of an adventure. I remember my first day, vaccinating a large herd in minus 20C! My bones hurt and the vaccine kept freezing between the rows of cattle." A planned two-month stay turned into nearly a year.
By then Dr Young was hooked on international work, in Asia in particular, and he began looking for ways to get back into the region.
"I talked to a lot of people and it became clear that vets in Asia were needed to work on large-scale disease control programmes, so I was encouraged to upskill in the field of epidemiology."
That resulted in a Master of Veterinary Public Health Management at the University of Sydney in 2009, which led to three years with the Mekong Livestock Research team in a project manager role in Cambodia and Laos. The experience ignited Young's further interest in learning more about how livestock disease control was connected to wider food insecurity and poverty in the region.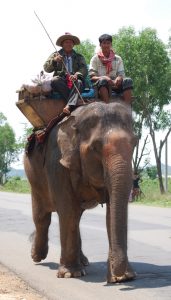 He started a PhD in early 2013 and completed it part-time over four and a half years while employed full-time as a project manager. It focused on how to improve disease control and biosecurity in smallholder farms and their wider communities in Cambodia.
He has found working in diverse cultures both challenging and rewarding. "There is a massive need for basic animal husbandry, nutrition and animal health, especially in countries that have experienced recent war.
"Some of the people we were working with had very low annual incomes, under $US1000 a year – it's amazing and humbling to see people who are so happy and generous with their time and welcoming of help."
Dr Young has also kept on eye on the battles in New Zealand. In 2017 he released Close the Gate, an online training tool designed in response to the Mycoplasma bovis outbreak. The course is designed to be completed on a smartphone, and can even be taken on the back of a quad bike while a farmer waits for the cows to walk up the race.
He is currently based in Singapore as the Asia Pacific regional market development manager for Thermo Fisher Scientific, which builds diagnostic kits. These are used by governments and private laboratories for animal disease, including Mycoplasma bovis, foot-and-mouth disease, avian influenza and African swine fever – all of which are currently causing significant problems in the region.
"Our diagnostic technologies are used to help governments identify, control and eradicate these diseases. I'm really enjoying the challenge, as we have different countries at different stages of development and all facing a range of challenges to protect their food security and food systems. We also have technology in genomics and nextgeneration sequencing that is being applied more and more in livestock and other agricultural applications."