Create1World 2020
UPDATE:
Because your health and safety is our top priority, we will not be proceeding with a physical gathering for Create1World this year.
However, we've always had a cutting-edge electronic component to the conference – and we think it is still very important and inspirational to hear from, and support, the voices of our artists at this time. So we're working on a plan to expand the electronic part of the conference so that you can still get access to great creative activism wisdom from wherever you are. We'll keep you posted.
We are also still happy to accept your entries to the competition. We believe creativity is an important way to process everything that is happening. However, the electronic version that you send us will be your judged entry – there will be no live finals.
Please keep an eye on our Facebook page for updates: https://www.facebook.com/create1world/
Stay safe and stay creative. ❤️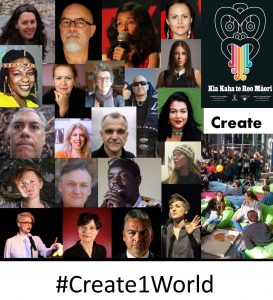 Nau mai, haere mai. Welcome to the Create1World 2020 Competition and Conference information pages – Join us to create one world through expressive arts and creativity! Hono atu ki te whakataetae Create1World.  Mahi tahi mo te rangimarie.
Massey University invites young people aged 12-18 (or in schooling equivalent to years 7-13) to enter the 2020 Create1World competition, and/or to join us for a fabulous day of creative inspiration including local and international panellists answering your questions, along with performances, workshops and activities, in Wellington on Thursday July 2, 2020. Last year our Wellington conference was rated 9.3 out of 10 by participants on whether they would recommend it to others!
The competition asks you to produce a creative piece that encourages audiences to join together as a global community and solve some of the big problems we face as a planet.  It could be a video, song, poem, short story, speech or theatre performance – your choice – but it must help us think about ways of working collaboratively for the betterment of all humanity.  We want to hear your creative voice for change. There are cash prizes!
"We are still raving about it."

The conference day is free to attend, and will give you a feast of creative inspiration from other young people and leading artivists (that's artists who use their creativity to generate change)!  Just a reminder of the date: it will be held at Massey Wellington, 9am – 3pm on July 2, 2020.  We provide fair trade morning tea and lunch, hands-on creative activism workshops, inspirational speakers, and a wealth of information and inspiration about creativity and global citizenship.
"It was awesome, will definitely recommend! Especially loved the environmental expert and the Pasifika panellist."

"Very interesting and cool how there was a 'Q&A' session, especially with others overseas."

"Thank you for the amazing experience. I really enjoyed it and it has inspired me to try some new things."
If you already know you want to come to our Wellington Create1World 2020 conference day – please register here: https://forms.gle/4sLvxThkG8RodzWc7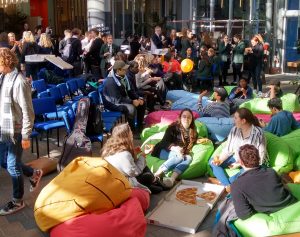 You can attend the conference day without having to enter the competition – but we really hope you'll do both! It's great to see what ideas everyone has and share our own Aotearoa young people's creativity alongside our featured local and international artists' stories about their successful creative journeys.
If you'd still like a bit more of a sense of what it's like to come to a Create1World Conference before you sign up, check out the Radio New Zealand story here: http://www.radionz.co.nz/national/programmes/standing-room-only/audio/201807707/creative-activism
So get creating and registering, and come join us for Create1World 2020!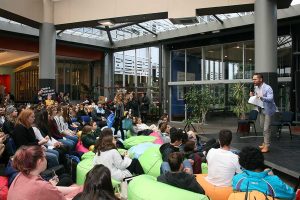 "Thank you so much for such an amazing conference today. I had little to no idea what was going to happen and it completely blew my mind how well put together it was. It was so interesting and fascinating to hear different perspectives from not only the panel internationally and domestically, but as well as from teachers/tutors within Massey University. Thank you so much once again❤️"

"This was an awesome day for my students. It was fabulously well organised, useful, thoughtful and AMAZING. We loved it and we will bring heaps more kids to it next year and forever."