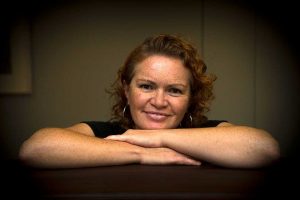 A new Massey University course looks set to radically reframe what we traditionally consider in the study of literature.
Novelist and Massey creative writing lecturer, Dr Tina Makereti (Te Ātiawa, Ngāti Tūwharetoa, Ngāti Rangatahi) has created a unique course entitled 'Oceanic Literatures of Aotearoa: Ngā Tuhinga Kōrero o te Moana Nui a Kiwa.'
The course is being launched for second semester study both on campus and by distance and will allow students to explore customary Māori and Pasifika creation narratives, visual narratives and oral traditions.
Dr Makereti says when considering Aotearoa's literary past, people tend to think of the first Māori literature as being produced in the 1960s and 1970s. But she says Māori and Pacific cultures were weaving narratives long before English explorers arrived on the scene. "Written literature was never alien to us because our ancestors were already using sophisticated coding built into carving, weaving and ta moko to tell our stories. Our wharenui are libraries of stories built into the walls and into the very faces of our tipuna."
She says it is time academia acknowledged this visual communication is as much literature as oral and written forms and she believes students, especially Māori and Pacific students, need the opportunity to study the richness of their literary heritage.
"Viewing Māori and Pasifika literatures as a recent development devalues them – we can see this in the lack of courses on this subject available nationally, and the lack of research in this area. By re-contextualising the history of our literatures, I hope to re-energise interest in our contemporary writing too."
Along with studying pre-colonial literature, students will also look at contemporary Māori and Pasifika stories and poems in English and critically evaluate how cultural and historical bias is embedded in reading and writing.
Full details of the course can be found here and it will commence on July 15.
Related articles
Māori literature deserves academic recognition
Excellence in Māori literature celebrated