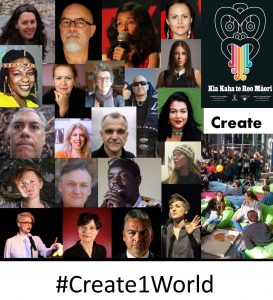 Kia ora koutou, because your health and safety is our top priority, we will not be proceeding with a physical gathering for Create1World this year.
However, we've always had a cutting-edge electronic component to the conference – and we think it is still very important and inspirational to hear from, and support, the voices of our artists at this time.
So we're working on a plan to expand the electronic part of the conference so that you can still get access to great creative activism wisdom from wherever you are. We'll keep you posted.
We are also still happy to accept your entries to the competition. We believe creativity is an important way to process everything that is happening. However, the electronic version that you send us will be your judged entry – there will be no live finals.
Please keep an eye on our Facebook page for updates: https://www.facebook.com/create1world/
Stay safe and stay creative. ❤️