Major Milestone Month for NZ Sheep dairying!: It's been a big month for NZ's sheep milk industry. The two major North Island sheep milk  groups have both been involved in launching infant formula products. Spring Sheep Milk Co  launched its  stage 3 Gentle Sheep Infant Formula into the Malaysian market with plans to launch in NZ and Australia shortly. And Maui Milk's tie up with Danone, makers of Karicare infant formula, was officially announced yesterday (August 21).  Danone's first sheep milk infant formula based on milk from Maui's two Taupo  farms will be available in Australia initially, due to supply limitations,  but  full range of products are scheduled  for release in 2020. Meanwhile Spring Sheep's first contract supplier, Wairere Creamery, near Karaka in South Auckland has start milking its 670 Spring Sheep- supplied ewes. Maui Milk's  first contact supplier,   Toni and Allan Browne's Astra Farms near Cambridge, is advertised for staff to start milking next season.
Product news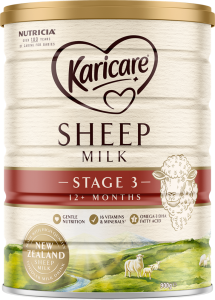 Danone launch Maui Milk- supplied stage 3 sheep milk infant formula (press releases attached). In what is surely a huge vote of confidence in the industry and major accomplishment for the Maui Milk team, Danone, makers of Karicare infant formulas and in the top 10 of world's food and beverage companies  has  officially launch a Maui Milk-sourced stage 3 sheep milk infant formula in Australia. See news article:  The full range of Karicare sheep milk infant formulas is expected to follow in 2020. Maui is meanwhile redoubling efforts to recruit contract milk suppliers from around the Waikato and surrounding regions. Maui's next open at Waikino Station is on November 5. Meanwhile Maui Milk's first contract milk supplier is looking for staff. Toni and Allan Browne's Astra Farms near Cambridge is current gearing up to start milking up to 1000 hoggets in 2020 heading toward a flock of 1800 by 2022-their job advertisement is attached.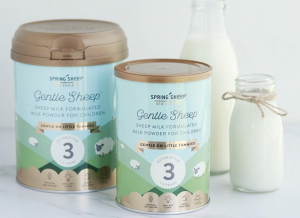 Spring Sheep Milk Co Launch Stage 3 infant formula in Malaysia: Following the success of their whole milk and probiotic powder products, Spring Sheep Milk Co has launched its newly manufactured  stage 3 Gentle Sheep Milk Infant Formula into Malaysia with plans to roll out across Australia and New Zealand in the near future (see media stories). Meanwhile Spring Sheep's first contract supplier, Wairere Creamery near Karaka, owned and run by James Wallace and Johnny McLaughlin, is starting to milk its flock of 670-Spring Sheep-supplied ewes. The farm includes Wairere Goat Milk. As well dairy sheep, the farmers will be milking 350 dairy goats through the same milking parlour in order to supply fresh goat milk to Auckland food stores and to speciality foods outlets around the country. James and Johnny recently advertised for milking parlour staff (see advert).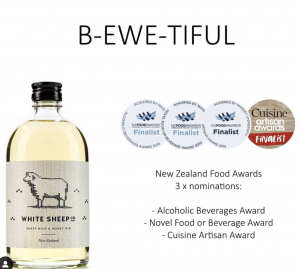 White Sheep Co's Sheep Milk Gin and Vodka  finalist in three categories at the NZ Food Awards (Cuisine Artisan Award, Novel food or Beverage Award and Stout Alcoholic Beverage Award). The Awards night is October 23. In May the  company's Sheep Milk Vodka was awarded the trophy for the 'Best New Zealand Vodka' in the category at the inaugural NZ Spirits Awards.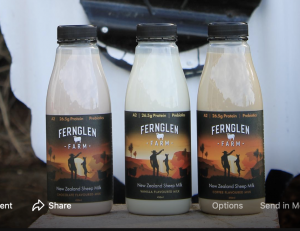 Fernglen flavoured Sheep Milk label changes (drops 'Performance Protein' label in favour of new farm-related image).
 _______________________________________________________________________
Events
2020 SheepMilkNZ Conference will be held at Lincoln University, Canterbury,  on Tuesday March 31 and Wednesday April 1, 2020.
We've started planning the 2020 Sheep Milk Conference, our annual two day event covering 'all things sheep dairying'. While no dates are absolutely ideal for everyone, we've pushed things back a little further for next year. The conference will be held on Tuesday  March 31 and Wednesday April 1 at Lincoln U. Further details to follow.
Canterbury Dairy Sheep Association formed  
AGM Tuesday 24th September at 7pm at the Darfield Recreation and Community Centre. 
A group of keen Canterbury sheep milk  producers have incorporated the Canterbury Dairy Sheep Association with the purpose promoting the industry, providing relevant information to farmers, and connecting interested groups. The group is holding its AGM on September 24th at 7.pm in the Darfield Recreation and Community Centre. Among the group's plan is to conduct a survey of potential new entrants producers to understand the level and composition of the interest in a local industry. If anyone would like participate or join the group please email David Waghorn at cdsainc2019@gmail.com.
 _______________________________________________________________________
International:
 _______________________________________________________________________
Foods (and other products):
 _______________________________________________________________________
Technologies
 _______________________________________________________________________
Animals
 _______________________________________________________________________
Science