The importance of speaking out and the pervasive effect of keeping silent transcends the ages in a play being staged in Palmerston North.
Massey University students will tap into Greek mythology and the #metoo movement for their production, The Love of the Nightingale.
The 1988 play by Timberlake Wertenbaker is based on the Greek myth o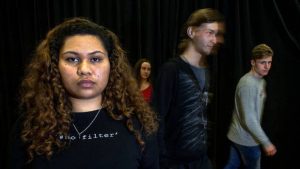 f Philomele, who was raped and silenced brutally by her brother-in-law Tereus.
The play touches on themes of feminism, silence and power, as Philomele regains her voice.  Director and senior theatre tutor Rachel Lenart said using Greek mythology was a great way to highlight contemporary problems.
"We always try to do something with political and social resonance.
"With the #MeToo movement very much alive, it's an interesting time for us to perform this play."
It challenges the audience to think about times when they should have spoken up about something but didn't.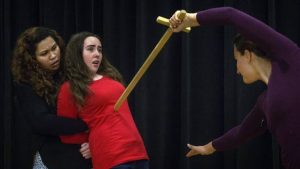 "The characters are always on stage watching in, like society watching the action unfold. They're allowed to react accordingly," Lenart said.
She drew inspiration from a quote by German playwright Bertolt Brecht.
"Art is not a mirror to reflect society, but a hammer with which to shape it."
The cast is made up of first-year students studying drama in performance, which can also be taken by older students for their elective studies.
It provides an opportunity for new actors to mix with and learn from more established actors in a safe environment.
Lenart said interest in theatre at Massey is on the rise, and past students are returning to volunteer behind the scenes.
"Massey is one of few options for theatre in Palmerston North. It's a lot of responsibility.
"You don't have to move to Wellington to do theatre. We are as interesting as anywhere."
The Love of the Nightingale will be performed at Massey University's Sir Geoffrey Peren Auditorium, Thursday and Friday, at 7pm. Entry is by koha.