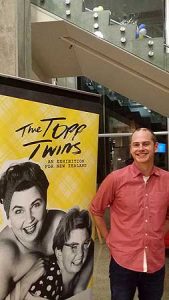 The Topp Twins use comedy as a means to unsettle ideas around gender, sexuality and what it means to be a New Zealander, according to Dr Nicholas Holm, Massey lecturer and programme leader in Media Studies at the Manawatū campus.
Dr Holm presented a lecture on the Topp Twins at Te Manawa Museum in Palmerston North, which has recently celebrated the opening of a Topp Twins exhibition, running until October 29.
He described the Topp Twins characters as "pantomime fictions sprung to life and walking the fields and streets of provincial New Zealand, and when you encounter them you are asked to enter willingly and gleefully into their skewed world".
"The Topp Twins are fantastic entertainers who also happen to be radically ahead of their time, and therefore have found ways through popular culture to gain widespread acceptance and even love. As such they exist in a fascinating and productive tension by virtue of their seeming ability to unapologetically reject powerful and normative cultural expectations while also being celebrated as wholesome examples of traditional entertainment."
Through analysis of the comedy of the Topp Twins, Dr Holm identified the unexpected power of popular culture, as it "can serve as a platform from which to challenge assumptions and accepted ideas about how the world works, what is valuable and what is permitted, who counts in a society, and what it means to belong to a community".
For more information about the exhibition see http://www.temanawa.co.nz/