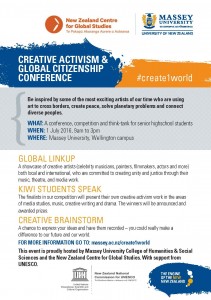 Inspired by our innovative Expressive Arts curriculum and its focus on 'performing the change you want to see', Massey University College of Humanities & Social Sciences and the New Zealand Centre for Global Studies are proud to present #create1world, the first Creative Activism & Global Citizenship initiative in New Zealand.
This conference, competition and think-tank for senior highschool students will be held from 9am to 3pm, on July 1, 2016, at Massey University's Wellington campus.
If you are in Year 11, 12 or 13, we invite you to first of all to enter our competition.  It aligns with NCEA for Media Studies, English, Drama and Music so we're sure there will be a category that you can enter.
Then, come along to the conference day on July 1, and be inspired by some of the most exciting artists of our time, and hear about their work using art to cross borders, create peace, solve planetary problems and connect diverse peoples.
The day will kick off with a global linkup showcasing creative artists (celebrity musicians, painters, filmmakers, actors and more) both local and international, who are committed to creating unity and justice through their music, theatre, and media work.
Then we'll hear from Kiwi students – the finalists in our competition will be invited to present your own creative activism work in the areas of media studies, music, creative writing and drama, and we'll announce winners and award prizes.
Finally, join a creative brainstorm where your ideas are heard and recorded – you could really make a difference to our future and our world.
See more detail at our website massey.ac.nz/create1world
You can also follow us on Twitter at https://twitter.com/team1world or Facebook at https://www.facebook.com/create1world/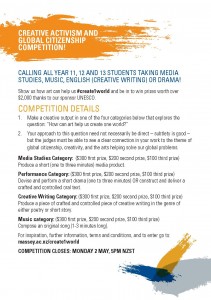 We look forward to seeing your creative entries and to welcoming you to the #create1world discussion on July 1.