Tick the Full Text Box
May 1, 2012
Are you having trouble getting to the full text of some articles in Discover results? Massey Library doesn't hold everything that Discover finds. If you'd like to see just the ones that we do have, then tick one of the full text boxes in the left hand column: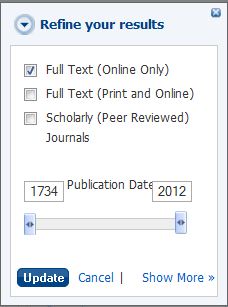 If you need scholarly articles, tick that box too, and refine by date while you're about it. Now you should be able to get to the full text of all the results. No more chasing items we don't have!
Please contact us if you have any questions.