Economist Available in Print Only
September 11, 2012
The Library's online coverage of the The  Economist has ceased due to publisher restrictions. However, we do maintain print subscriptions on each campus.
You can use Discover to search the The Economist online. Once you have your search results in Discover, open the Publisher facet on the left and click on "Show More". Click on "economist newspaper limited" in the list of publishers: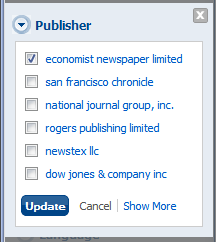 This will limit your search results to The Economist. Once you find the articles you want, you can get them in print at the Library or, if you are a Distance student, request they be sent to you using the link at the top right of the Library catalogue record.