In the bin at Albany
October 2, 2012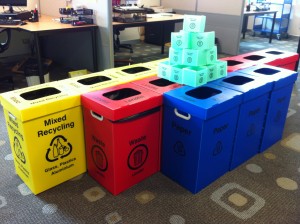 Albany Library is trialling a new rubbish system on Level 3 over the next couple of weeks. If it's successful, we'll roll it out to every floor of the Library.
On Level 3 the old bins have been removed and replaced with larger, brighter bins:
red for general waste
yellow for glass, cans and plastics
blue for paper
plus wee green ones for staff to sort their waste into the big bins 🙂
The bins are by the north lift, both sides of the main stairwell, and by the Group Study Rooms. We encourage all students to sort their rubbish into the appropriate bin.