Turitea Books Moving
October 3, 2012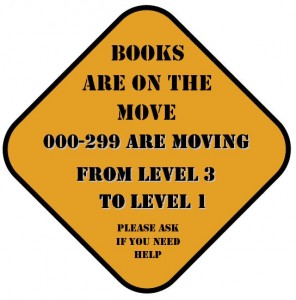 Update 09/10/12: All of the 000-299 books are now on Level 1, well ahead of schedule. We will now be shuffling the 300 books back into the new space created, in preparation for the books coming from Hokowhitu Library.
Update 04/10/12: The 000-099 books are now all on Level 1, and the catalogue location has been changed for these books.
Over the next few weeks we're moving the 000-299 books from Level 3 to Level 1 at Turitea Library. This is part of the project to move Hokowhitu Library to Turitea Library.
When we finish moving the 000-099 books, the catalogue will be changed to show the correct location for those ones, then the 100-199 block, then 200-299.
It's all well sign-posted, but please ask if you need help with finding anything.