Albany Recycling Trial Extended
October 29, 2012
The trial of the coloured recycling bins on Level 3 at Albany Library has been so successful that it has now been rolled out to the whole building.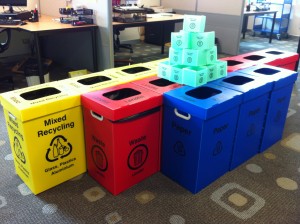 111 individual bins throughout the library have been reduced to 32 stations under the new system.  The library is less cluttered, recycling has improved, and the cleaners are very pleased.
A couple of points about what goes into which bin… coffee cups can't be recycled, nor can chocolate wrappers or any food wrappings (or snotty tissues!) – they all need to go in the red waste bin please.
Thanks for making this such a success!