Logging in to the Library
April 29, 2013
Are you confused about logging in to the Library? There are several points on the Library website where you may need to login. Unfortunately we're not able to reduce all that to a single login at this time. So just to clarify, here are the login points you may come across, and what they are for:
Login to MyLibrary.  This is for books only – requesting, renewing, reading history, etc. It comes up automatically if you request books in the Catalogue, or you can choose to login if you want to check what books you have out, renew them, etc. Use your Massey ID and PIN. Logging in to MyLibrary does not give access to the article databases, MyMassey or Stream.

Login to Electronic Resources. This comes up automatically if you are off campus and click on any of the subscribed resources restricted to Massey students and staff, e.g. databases, ejournals, ebooks, etc. Use your Massey ID and PIN.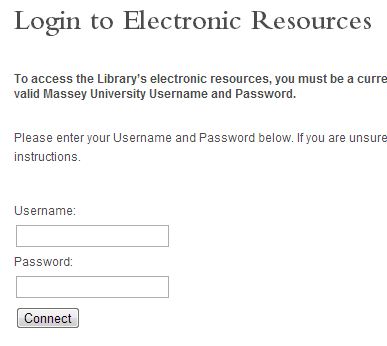 Login to Discover. If you are using Discover on a non-Massey computer, then you should always login to get full access. It is possible to search without logging in, but the results are very limited. To login, click on the yellow 'Hello Guest…' box, which appears off campus and on non-Massey computers. Use your Massey ID and PIN.

'Sign In' to Discover, or similar in other databases. Most databases allow you to create your own account if you wish, so that you can use extra features such as saving items to a folder for future sessions, creating alerts, downloading some ebooks (these can be viewed online without signing in), and so on. Discover calls this 'Sign In' which appears in the top right of the screen. Other databases may use different terms. 'Sign In' is in addition to logging in to Discover or electronic resources.  You only need to use the 'Sign In' if you are particularly interested in the extra features. You don't log in with your Massey ID and PIN, you create and manage your own account. We are not able to access your username or password to help, should you forget them.

Login to MyMassey and Stream. These also use your Massey ID and PIN, but logging in to either of these does not log you in to the Library in any way. You will still need to login at the above points, as appropriate.
If you have difficulty with any of the Library logins, please do contact us.