Discover Upgrade
July 4, 2013
Discover will have several enhancements rolled out over the week of 24-28 June, including:
The 'Refine your results' tick boxes in the left hand column are changing. You will now get these options: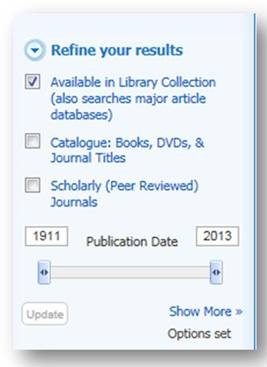 The first box 'Available in Library Collection' is ticked automatically, to narrow the results to those that are available free at Massey. If you wish to see all of the results, including those not available at Massey, then un-tick this box. We would only recommend this if you are studying at postgraduate or research level and need to do very comprehensive searches.
Tick the second box 'Catalogue: Books, DVDs, & Journal Titles' to narrow the results to what you would normally find in the Library Catalogue. This searches at the highest book or journal title level only – you will not be able to find journal articles or book chapters if this box is ticked.
Tick the third box 'Scholarly (Peer Reviewed) Journals' to narrow your search to this type of journal article, often a requirement of assignments or research.
Links in Discover (except MasseyLink) will now open in the same window, rather than a new window. If you would like to open in a new window (for example, to retain the list of results), then just right-click on the link and select the option to open in a new window or tab.
Please contact us if you have any questions about the changes.