Is the Library content in your Stream course up to date?
August 20, 2014
Staff members, is the Library content in your Stream course current? The Discover search box and links have changed this semester, to give students better access to online resources, so previous versions may need updating. If you have not already been in contact with a Librarian this semester to update the Library content, then please take a minute to check your Stream paper, or ask your Subject Librarian to check it for you.
Library Blocks
Library blocks should all have 'Version 2.2′ at the bottom: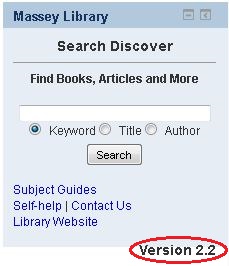 Default Massey Library blocks (i.e. those with no content tailored to your specific paper) should automatically update to version 2.2. If yours hasn't, it is very easy to update:

Turn on editing
Delete the old Massey Library block
Go to the dropdown box at bottom left to add a new block, select Massey Library
Re-position the new block to where you want it
Tailored Library blocks (i.e. with paper-specific links such as books, subject guides, exam papers, etc) that are not version 2.2 can either be replaced with the default Massey Library block as above, or to retain the tailored content please contact your Subject Librarian.
Other Library Content in Stream
Do you have Library content in the central panel of Stream that you think may need updating? Key things to look for are:

links to Discover should use the new URL, which begins with the prefix ezproxy.massey.ac.nz/login?url= (check by hovering over the link and looking at the URL at the bottom of the screen)

no mention of Discover, our main search tool

references to the old Encore or Classic catalogues
broken links to Library web pages or specific resources, such as journal articles, books or chapters

If you do identify out of date content, please delete it or contact your Subject Librarian.