The wahine behind the website kete
February 2, 2015
Ko Taranaki te Maunga
Ko Taranaki te Whenua
Ko Taranaki, Ko Te Arawa, Ko ngā Puhi ngā Iwi
Ko Te Rere o Kapuni te Wai-Ora,
Ko Pikiwahine te Papa Kainga
Ko Ria Wihapi Waikerepuru ahau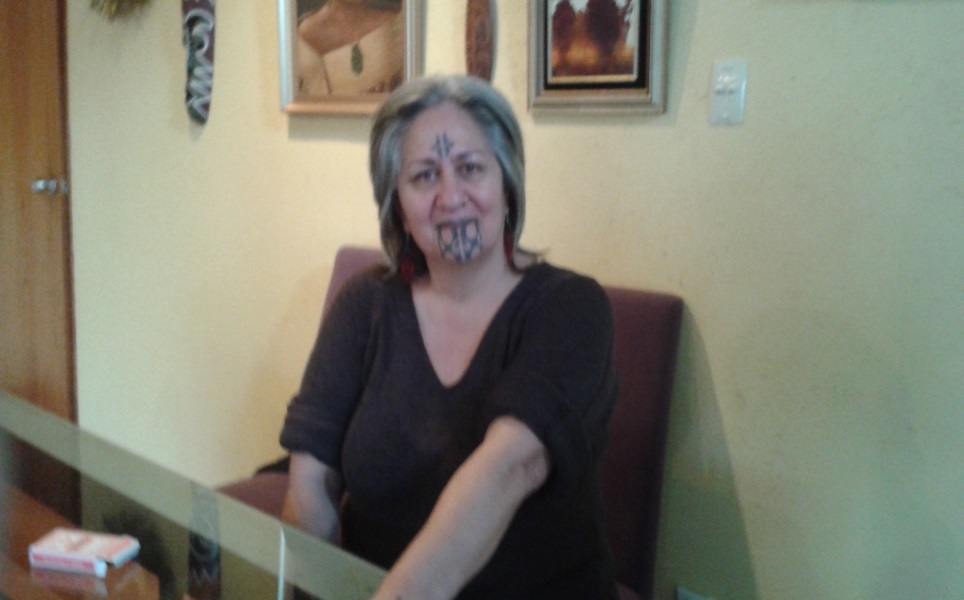 Your Library home page has a wonderful new look. One of our objectives was to have our website reflect our Aotearoa/New Zealand identity. What would this look like?
We had te reo Māori on the previous home page so continuing that was a given. We then needed to find a suitable image that would reflect this identity too. We searched high and low for suitable images and ideas that could and would locate our online presence in Aotearoa. Then came our realisation that we have talented artists in our midst!

Our image is detail from a kete from our very own kairaranga Ria Wihapi Waikerepuru, who is the Kaiwhakarato Pārongo Rangahau Māori on the Manawatū campus and part of Māori Services.
Ria has many talents and weaving is just one of them. If you think, "I may get her to make me a kete, or korowai or even a whāriki," get in line as this is one busy lady. As well as being the Māori Information and Research Services Librarian, helping with research and Māori resources, Ria is also a member of Te Rōpū Whakatairanga i te reo Māori which supports the promotion of te reo Māori here at Massey… and a member of Te Raranga Whatu o Aotearo, The National Collective of Weavers.  Whānau Ora or Family Wellness is paramount for Ria and with a blended family of 6 grown up children and 17 mokopuna aged 2 years to 19 years of age, life can become very full on at times.
Be sure to look out for other weaving images from this talented wahine!
Nā reira e te whaea,
Nei rā te mihi maioha ki a koe
Tēnā koutou katoa