Got Library fines? Pay them off with food!
August 17, 2015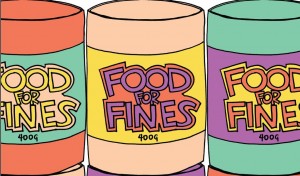 You can pay off your Library fines with food during the week of Monday 17 August – Sunday 23 August. One medium sized can, jar or bag of non-perishable food pays off $5 of fines (sorry, not valid for lost items or replacement charges). All donations go to the local food banks.
The offer is open to all students. Just bring the food to the Desk at your campus library. Distance students – here is what you can do:
If you have received a flier from us take it to your local Foodbank and ask them to stamp it when you donate (their date stamp needs to be on or before 23 August). Then just send it to us to be received by 28 August 2015*.
Alternatively, feel free to post us a grocery voucher and we will pay off your fines accordingly ($5.00 voucher for $10.00 in fines). Remember to include your Name and ID with the voucher, and send it to us to be received by 28 August 2015*.
Send your receipt or voucher to:
"Food for Fines"
Distance & Document Supply Services
Massey University Library
Private Bag 11054
Palmerston North 4442
*Receipts or vouchers must be sent separately from books, using the address above.
If you have any queries, please contact us.