Logging in to our Library sites? We're making it easier!
September 1, 2015
Are you logging in to our Library databases from off campus or via your mobile device? We've made a few tweaks to the login set-up which will go live Wednesday 2nd September. For starters when you go to login to our databases you'll now see this screen: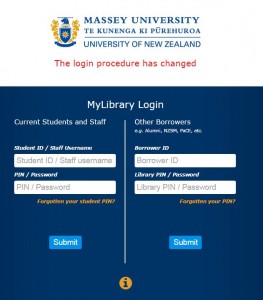 And to help make things easier, once you have logged in to either the Databases or  MyLibrary, you won't need to login to the other service during the same session. (Sorry you will still need to login  separately to MyMassey and Stream).
If you have any problems with this, please contact us.