Kotahi te Kupu – Massey University Library's Marama o te reo Māori competition 2016
June 29, 2016
Testing your general knowledge and te reo Māori at the same time.
This year we are once again running our very successful competition Kotahi te Kupu.
In celebration of Massey's Māori Language Month 2016, Massey University Library will be holding the month long competition.
Kotahi te Kupu will simultaneously test your general knowledge and te reo Māori. The competition will run each working day from Monday 4th July until Friday 29th July.
This competition is open to one and all so nau mai haere mai. Are you up for the challenge!
How to play
Kotahi te Kupu, for those that didn't get the opportunity to play last year, is a Māori spin on the popular 4pics1word game where you are given 4 pictures and using the letters provided you must guess the one Māori word that each picture has in common. The dashes below the pictures give you a clue as to how many letters are in the word needed; with the NG and WH in Māori counting as one dash. That's enough clues for now!
Here is an example of what the competition looks like: Click on the image to enlarge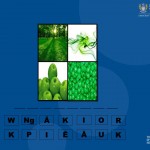 How to enter
Each working day a clue for Kotahi te Kupu will be posted to the Library Out Loud blog with entry details attached.
Each post will be up on the blog by 9am each morning and unlike previous years, will remain there until the end of the week. They will be removed on Saturday. This should give you plenty of time to have a go! Be sure to play each day to give yourself more chances to win.
Winners
A draw will take place the following Monday where one of the Library's Māori staff will then notify the winner using the contact details provided.
The winners name, with the answers to the previous week will be put on the Library Out Loud blog on Monday. This gives you an opportunity to see how well you did.
Prizes
Prizes consist of book vouchers. There are prizes to be won each week with a final prize for the overall winner.
So….are you up for the challenge? Keep an eye out for the daily posts on the Library Out Loud blog as well as Facebook and Twitter posts. The first clue will be posted on Monday 4th July by 9am.
Kia kaha!!!