Open Access – A review of the current state of OA in New Zealand
March 18, 2020
This is the first of two posts reporting on an environment scan of Open Access (OA) in New Zealand. The second will be up later this week and will give an overview of Massey University's state of Open Access.
A working group of the Council of NZ University Librarians (CONZUL) has reviewed the current state of Open Access (OA) in New Zealand, based on an analysis of 2017 articles by NZ university researchers.
An infographic has been produced (see below). OA refers to free, unrestricted, online access to research outputs, although can extend to open scholarship (encompassing anything from open data to open educational resources). The focus of the CONZUL report was on access to research publications.
Key findings
The citation advantage of OA
Research articles in open repositories (such as Massey Research Online) which can be accessed by anyone, are cited 66% more often than articles behind paywalls (accessible only to researchers whose institutions pay subscriptions to the journals)
Open articles were referenced in the media 3.5 times more than closed ones and mentioned in policy documents twice as often
The majority of closed articles from 2017 can be made openly available, at no cost to the researcher, through institutional repositories (Green OA) Government funded research is not widely available to the NZ public
Slightly over half (51%) of university research which is publicly funded by NZ's biggest research funders (Health Research Council of NZ, Royal Society, MBIE etc), is behind a paywall i.e. inaccessible members of the NZ public who do not subscribe to these journals, including government agencies and university alumni
41% of articles are openly accessible where any of the authors are from a NZ university. This falls to 34% where the NZ researcher is the lead author
Only half (22%) of our open research articles were accessible immediately with re-use licences, due to embargoes or lack of a re-use licence
Costs
It is estimated that NZD 2.1 million was paid in article processing charges (APCs) in 2017
Subscriptions to electronic resources cost CONZUL libraries around NZD 65 million in 2017
University policies
Five of the eight universities in NZ have OA mandates, policies or guidelines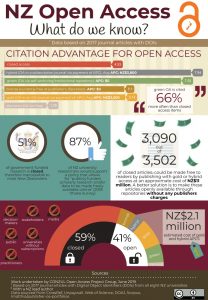 One response to "Open Access – A review of the current state of OA in New Zealand"