Open Access – A review on the current state of OA at Massey
March 19, 2020
This post is the second of two relating to the current state of Open Access  in New Zealand. The first is here.
Massey University's data was extracted from the national sample and analysed in the same way and found that two thirds of Massey-authored articles are behind paywalls, missing out on the 44% more citations that open access can give – and 80% of these could be made open access at no cost to the authors, according to recent research.
Building on the work of a project sponsored by the Council of NZ University Librarians (CONZUL) to review the current state of Open Access (OA) in New Zealand, a refined analysis of 2017 articles by Massey University researchers has informed a Massey-specific infographic (below).
OA refers to free, unrestricted, online access to research outputs, although can extend to open scholarship (encompassing anything from open data to open educational resources.
The focus of the CONZUL report was access to research publications, specifically journal articles from 2017 with a DOI (Digital Object Identifier).
Key findings:
Research articles in open repositories (such as Massey Research Online) which can be accessed by anyone, are cited 44% more often than articles behind paywalls (accessible only to researchers whose institutions pay subscriptions to the journals)
The majority of closed articles (80%) from 2017 can be made openly available, at no cost to the researcher, through institutional repositories (also know as Green OA or "Repository Open Access")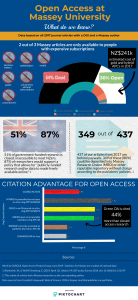 Further information about Open Access can be found in the appendix 2 of the Library's October 2019 Report to Library Committee
The original "all of NZ" infographic NZ Open Access: What do we know?
Open Access in New Zealand universities: an environmental scan [August 2019]
2 responses to "Open Access – A review on the current state of OA at Massey"