Your invitation to explore Massey University Archives
October 17, 2019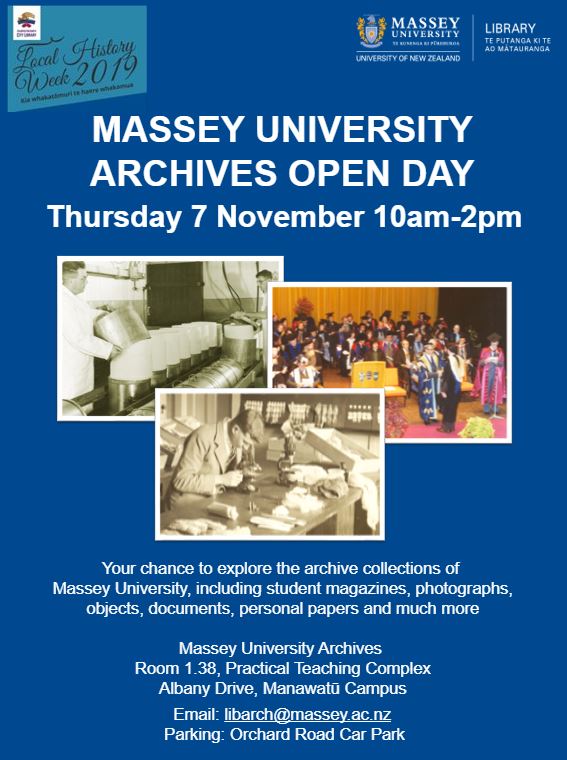 Come and discover the archival collections of Massey University, including student magazines, photographs, objects, documents, personal papers and much more.
On 7 November from 10am to 2pm, during Palmerston North Local History Week, the Massey University Archives is throwing open its doors and inviting you to view and explore our space, exhibitions and collections.
The University Archives
The University Archives serves as the memory of Massey University.  As the University's business archives, we collect and look after information (no matter what format) about the University's development and activities, history, campus and student life.
In addition to the archival collections of the University, we hold the largest archive of business records associated with the New Zealand dairying industry. Our holdings also include historical material relating to other sectors of New Zealand society, including business and industry, individuals, community, cultural and professional organisations.
Our collections are a valuable research resource that contains a wealth of historical, industry, business and genealogical information.
We welcome donations of material that could be deemed as historically important.
Come and join us on 7 November and learn more about what we do!
If you can't make it on the day, the reading room is located at Room 1.38 of the Practical Teaching Complex and is open to all, weekdays from 8.30am to 5pm. Email: libarch@massey.ac.nz
 Part of our collections can be explored online at http://tamiro.massey.ac.nz/