How do I save items I find in Discover?
May 19, 2023
There are a few ways to save items you find in Discover so you can use them later.
Note that it doesn't work to leave them open in a tab or to bookmark/save the URL in the address bar – both of these time out and you won't be able to get back to them.
Any of these methods will let you return to the items later:
Save to the folder in Discover. Make sure you are signed in, then add items to the folder either on the results list (click on the blue folder) or in the full item record (click on 'Add to folder'). Later, go to the Folders at the top right of Discover to see the saved items. You can also create custom folders, or select multiple items to print, email, save or export.

Use the tools in the full item record. Click on the title to get the full record. The tools on the right allow you to:

Save to Google Drive, OneDrive or on your computer
Print
Email the item to yourself
Export to referencing software, such as EndNote and Zotero
Get a permalink – this is safe to bookmark, save to a document, etc
(tip: the Cite tool is really handy for referencing, but you must check the reference carefully and edit if needed)

Use the Share button. At the top right of the results, this lets you:

get a Permalink for the entire search to bookmark or save
save the whole page to the folder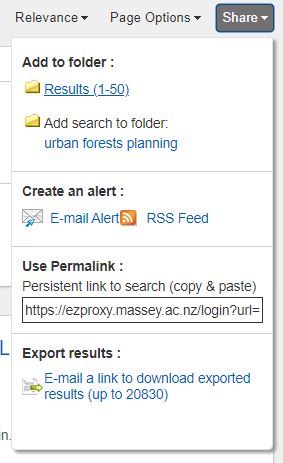 Save the search history in the folder. Click on 'Search History' below the search box, then 'Save Searches / Alerts'. You can retrieve these later in the Folders.

If you need help with this, please email us on library@massey.ac.nz